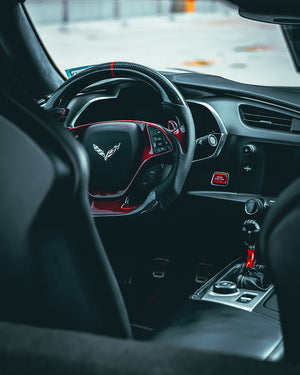 Bring your vision to life
Improved
Dynamic with Style
From the 12 o'clock center stripe to flat bottom, motorsports cues are found everywhere on the Zen custom steering wheels.
Hand-built individually on top of a stock steering wheel, they are designed and engineered to provide you the custom style, daily comfort and performance grip that far surpass any OEM steering wheels.

View Gallery
Guaranteed
Premium quality without paying a premium price
We don't brag about our quality in order to overcharge you. We brag because you deserve to know.

100% hand-laid high-grade carbon fiber. UV protected with 2K clearcoat. Our epoxy is especially formulated to prevent yellowing and cracking.
Additionally, all of our interior parts come with at least 2 year, up to lifetime warranty for your guarantee. Outlasting the competitors because we are confident.
Shop by makes
100% genuine carbon fiber products with 0% "carbon fiber tax"